CATIA APP
CATIA V5 gear design Application
Perhaps you prefer insert gears from standard parts in internet or other CAD software due to its difficult to design them in CATIA. Aided this application you could parametric design some of common gears (spur, helical, bevel, internal, rack and worm)
To use this application please install it at primary path then run it. Select the gear type and change the parameters. Press OK to create the gear in CATIA.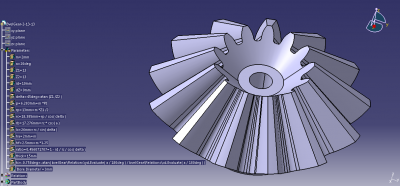 Attention: CATIA should be run before use this application
Attention: uncheck "Create Geometrical set" before use this app
This application compatible with all of CATIA V5 versions.
You can free download this app in the following link (0.9 MB)
SpadantechnicGearCatiaAPP-Setup.rar
the spadantechnic app video link :
www.youtube.com/watch?v=nBZ806JuTL4
Perhaps you prefer insert gears from standard parts in internet or other CAD software due to its difficult to design them in CATIA. Aided this application you could parametric design some of common gears ,Sprockets,Bearings (Ball Bearing & Roller Bearing) and convert text to sketch.
This app has 4 tabs
First tab: you can create Spur, Helical, Bevel, Spiral Bevel, internal, rack and worm gear
Second tab: you can create Sprocket from table
Third Tab: you can convert text to Sketch (it support Arabic and Persian text by its converter)
Forth tab: you can create some of common Ball bearings and Roller Bearings from table.